Steve Miller Band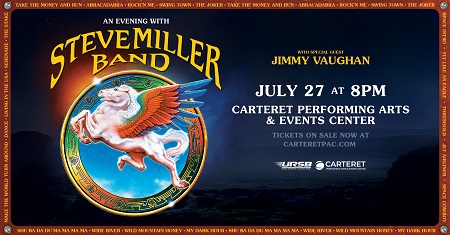 THIS EVENT HAS BEEN RESCHEDULED FOR AUGUST 13, 2022. TICKETS WILL BE HONORED FOR THE NEW DATE.

Steve Miller has been an enlivening presence on the American music scene for more than half a century – and, in the course of that era, his releases have sold tens of millions of records and been streamed several billion times. Miller's Greatest Hits 1974-78 received the RIAA Diamond Award with sales of more than fifteen million copies. It is among the 25 best-selling albums of all time.

In the '70s, Miller crafted a brand of pure pop that was smart, polished, exciting and irresistible - and that dominated radio in a way that few artists have ever managed. Hit followed hit in what seemed like an endless flow: "The Joker," "Take the Money and Run," "Rock'n Me," "Fly Like an Eagle," "Jet Airliner," "Jungle Love," "Swingtown" and "Abracadabra," among them. To this day, those songs are instantly recognizable when they crop up online or on the radio - and impossible not to sing along with. Their hooks are the very definition of indelible.
PRE SHOW BUFFET DINNER AVAILABLE FOR ADVANCE PURCHASE.